HP/UHP Triplex Pumps
Water jets serve many uses, including pipe cleaning, cold cutting, and surface preparation. However, not all high-pressure pumps are created equal. Very few are as customisable and have a wide range of use as our HP/UHP Triplex Pumps. The Asia Waterjet Equipment machine, built around the Jetstream pump range, is the most versatile, reliable, and user-friendly ultra high-pressure water-jetting system. It comes with a pressure range up to 40,000 psi and can be adjusted into a variety of suitable flows. Jetstream units are unique in 3 ways: 1. SERVICEABILITY No special tools or equipment required. You can conduct a packing seal change in as fast as 5 minutes. Plus, Jetstream's unique pop-out cartridge valve change only takes about 15 minutes. 2. SIMPLICITY Only 37 parts in total on the fluid end. The unique Uni-Valve one-piece cartridge includes suction and discharge valves, seats and springs, and a swing-down manifold for easy access. 3. VERSATILITY Lets you adjust operating pressure on the job. Change from 300 bar to 2,750 bar in 50 minutes by bolting on Jetstream's fluid end conversion (works for most makes of the ultra high-pressure pump).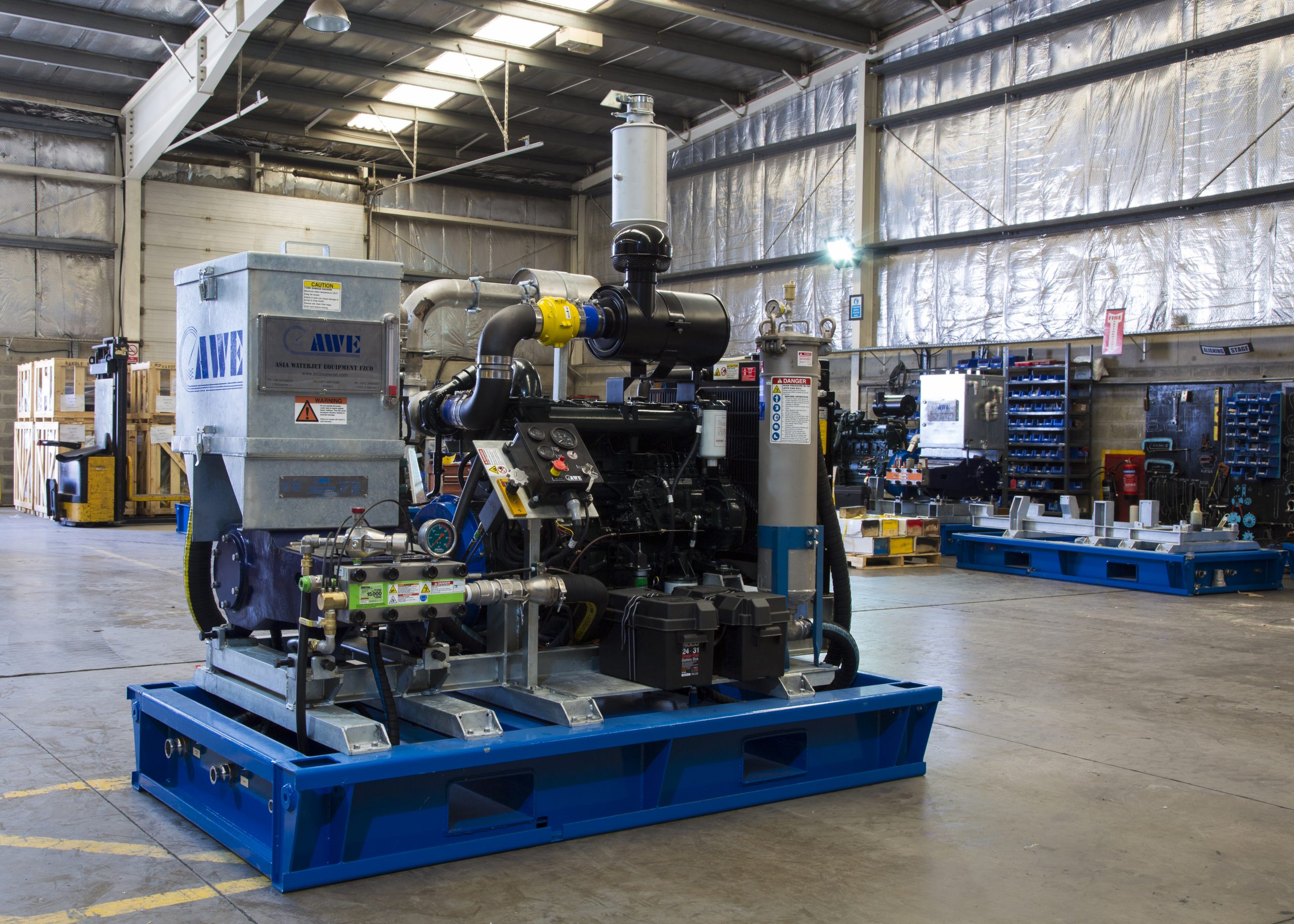 Features
Versatile high-pressure pumps that can be built to individual specifications.
Features customisable unit options: trailer, canopy, or skid-mounted.
Packing changes can be completed in 5 minutes with no special tools.
Easily upgradeable - pressure conversions can be accomplished in 30 minutes with only 37 parts in the fluid end.
Benefits
Cleaning
Environment-friendly - uses water for cleaning efficiently.
Does not require solvents and harsh chemical cleaning agents that could damage the surface or materials being cleaned.
Results in minimal to zero corrosion on the surface material and highly adjustable to maintain the integrity of materials.
Customisable for almost any industrial application, including hard-reach areas and complex structures.
Cold Cutting
Cuts most materials cleanly and efficiently.
Works with precision for any situation.
High water pressure can be controlled remotely to ensure user safety.
Customisable with nozzles and other attachments to accomplish specific jobs.
Does the job where hot cutting or heat application isn't possible.
Surface Preparation
Efficiently removes coatings and other substrates for cleaning, maintenance, and repair.
Removes the need for abrasive cleaning agents that can compromise the surface material.
Hastens surface preparation turnaround and cleaning process.
In need of a powerful, reliable, and versatile ultra-high-pressure water-jetting system? Reach out to us today for more information about our HP/UHP Triplex Pumps and Jetstream range.
Suitable for use in applications